White Swan Records Press Release for new single "Hanuman Chalisa – Windblown Version"
Devotional Singer-Songwriter Brenda McMorrow Raps the Hanuman Chalisa, Acoustic-Style
McMorrow's inspired interpretation of the epic verse offers a fresh take on this integral piece of Hindu mythology.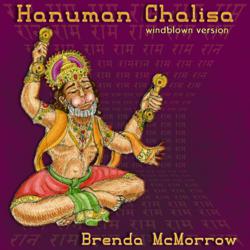 There seems to be an instant joy and peace that occurs for people when singing this hymn in it's many versions. It seems to have a magical effect.
Boulder, CO (PRWEB) December 27, 2012
The Hanuman Chalisa (a 40-verse Sanskrit hymn to the Monkey God, Hanuman) is an epic verse in Hindu mythology, and is one of the most widely performed pieces in the genre of kirtan (devotional "call and response" chants). While the song has been played in many different styles by many different artists, perhaps none have done it with the same charm and pure vibrant energy as Brenda McMorrow, a favorite performer in the burgeoning yoga music scene. Her take on this revered chant, titled "Hanuman Chalisa (Windblown Version)," will be released in digital single and video format on January 15th, 2013, by White Swan Records.
In recent years, McMorrow's rich and diverse musical career, spanning folk, jazz and bluegrass, has become focused on the spiritual power of sound and, in particular kirtan. Her singer-songwriter background gives her a unique approach to these sacred chants, and has led to collaborations with such celebrated kirtan artists as Jai Uttal, David Newman and Dave Stringer, as well as Grammy-winning cellist David Darling. She has performed at the massively popular Bhakti Fest gatherings and at the Hanuman Festival in Boulder. An inexhaustible touring artist, McMorrow has shared her vibrant blend of folk-inspired melodies, world beats and Sanskrit-inspired chant on theater and festival stages across North America and large swaths of Europe. When not on the road, she resides in Guelph, Ontario. McMorrow is a featured artist onWhite Swan Records — the Colorado-based label well-known for its roster of high-profile, yoga-inspired artists like Deva Premal, Donna De Lory and MC Yogi – and with them has released two recordings (both produced by Ben Leinbach), AMEYA and LOVE ABOUNDS.
After hearing the Hanuman Chalisa performed by such notable kirtan artists as Krishna Das and David (Durga Das) Newman, McMorrow embarked on the joyful task of teaching herself the chant's 40 verses. It was coming along slowly but sweetly, until one day, during a break in her 2011 European summer tour, she found herself rapping this "windblown" version of the song. According to McMorrow, "There seems to be an instant joy and peace that occurs for people when singing this hymn in it's many versions. It seems to have a magical effect. I know it does for me." But she was pleasantly surprised by the reception to her higher energy rendition. "The buzz and energy in the crowd is something to behold! Much dancing always ensues!"
After thrilling audiences with her inspired interpretation for the rest of the summer and into the fall, McMorrow took to the studio to record the track, joined by Narada Wise on percussion, keyboards, programming and harmony vocals; Philippo Franchini on acoustic and electric guitar and electric sitar; Grammy-winner Jeff Ciampa on bass, and Beth Gatchell on harmony vocals. Produced by Narada Wise at Supervolcano Studios in North Canton, Ohio, the single was mixed and mastered by Ben Leinbach at Old Bull Studios in San Anselmo, California.    
In addition to the new recording, McMorrow teamed with Robert Kingsbury, a Canadian videographer living in France, to shoot a video of the single. It was filmed at Shakti Yoga in Buffalo, New York, and features Brenda McMorrow, Narada Wise, Beth Gatchell, Liz Abbott, Robert Kingsbury and the Divine Shakti Hanuman Dancers.
Kirtan (pronounced KEER-tahn) is a practice of Bhakti Yoga (the Yoga of Devotion). It is a participatory, call and response form of singing which is expanding throughout North America as westerners discover its uplifting, healing and joyous effects. Open to participants of all religions or no religion at all, kirtan is easy to learn and all are invited to participate. The lead singer sings simple and beautiful melodies and the crowd responds either by memory or by using lyric sheets provided. Venues for these gatherings include yoga studios, performance halls, churches, private homes and outdoor festivals; anywhere people love to congregate and share heart-opening music.
It was when Brenda participated in her first kirtan, while attending a yoga workshop in 2004, that she had the profound epiphany that her musical journey was leading her to places more expansive and heart-opening than she had ever imagined. Brenda remembers: "It was a very simple chant (Om Namah Shivaya), and at the time I had no idea what it signified: all I knew was that every cell in my body started vibrating, and I felt absolute joy". While in India soon thereafter, Brenda began combining her own songwriting with ancient Sanskrit chants – and she has been flowing with this divine wave of Bhakti energy ever since.
As for why Brenda felt so drawn to the Hanuman Chalisa, McMorrow explains that "singing to Hanuman can help us remember who we really are: One with the Divine. Hanuman is a reminder that truly all we need to do is to serve and love one another. Singing together– chanting the Divine names – encourages our hearts to open and the beauty of our true beings to shine."